Many people ask me how I became a Hypnotist, As a child I grew up wanting to become a policeman. When I enrolled in college, my goal was to become an FBI agent. When I graduated in 1975, I had fulfilled all of the educational requirements necessary to enroll in the FBI Academy. There was only one problem. I found out there was a height requirement of 5 foot 9 inches. I wasn't quite that tall and there were no exceptions!

Then I persued a career in sales. After nine years I found myself living in Florida, married with three children, and living the good life. I had worked my way up to become a V.P. of a major corporation. With the responsibility came a lot of travel. One day in 1985 I held an airline ticket on a small commuter plane. When I arrived at the airport that day and I decided to catch a later flight instead of possibly getting sick on a small plane. After takeoff, the commuter fight crashed with no survivors.

When I arrived home that evening I told my wife the situation and suggested she go back to school to fulfill her nursing certification in the event something happen to me. Instead she put a one million dollar life insurance policy on me. Approximately 30 days later I held a ticket on another commuter that went down with no survivors. Again I urged my wife to go back to school. She then put a two million dollar policy on me and looked into a nursing program.

She found they were offering a hypnosis course for nurses, and she enrolled. I became a little concerned, because I thought hypnosis was fake and doubted she would be able to support our three children if something truly happened to me. It didn't take me very long to realize just how real hypnosis truly was.

I continued my career until one day my body began to shut down due to stress. I was hospitalized with a bleeding ulcer and very high blood pressure. None of the "Wonder Drug" medications had any effect on me. I was given six months to live. My doctor thought I should try hypnosis to try to bring my stress level down and my health might turn around. I knew my wife was very good, but I felt uncomfortable with any additional programming she might have done (i.e. washing dishes, scrubbing toilets, etc),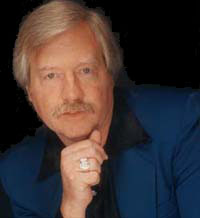 so my wife sent me to Gil Boyne, the leading authority on hypnosis and the director of the Hypnosis Training Institute of Los Angeles. After our brief meeting my health began to improve, so I enrolled in the institute to help others.

Upon my graduation in 1988, Linda and I founded Alpha Dynamics. Linda continued to work with children and I began to work with executive specializing in stress control. I retired from my job in 1992, at the age of 39. My hypnosis practice grew to include self help seminars for weight reduction and stop smoking. I began doing live demonstrations at every seminar.

These live demonstrations were basically the same as the stage hypnosis I had seen in Reno and Las Vegas. The main difference between my demonstrations and the entertainment show was that I tried to educate my audience on the power of their own subconscious minds. but doing it in a humorous fashion. This allowed my show to be funny without purposely embarrassing my subjects.

My unique combination of entertainment and education has proven to be very successful. I perform over 300 shows per year. I now have two of my daughters doing it as well. I travel all over the country performing at colleges, high schools, night clubs and County and State fairs. My show is always high quality, family oriented show that will be long remembered by all.

I still do seminars and workshops and have authored over 24 self help programs that have helped hundreds of people change their lives.